Whether you're looking for that extra boost of energy to aid your performance, or something to help with post-workout recovery, here are the best herbal teas for athletes and fitness enthusiasts.
 —
We want to put it out there straight away – if you've arrived at this blog post hoping for some kind of miracle fitness juice, then we're sorry to disappoint you. There's no herbal tea in the world that can substitute for hard work and commitment. Building your fitness takes both.
Having said that, there are plenty of herbal teas that can support your hard work and form part of a healthy lifestyle. From giving you that extra bit of energy to get you through your workout, to aiding post-exercise recovery, many herbs can help you pursue your active lifestyle.
We've put together this list of the best herbal teas for athletes and fitness enthusiasts to help you choose a herbal blend (or two) that's right for you.
1. Green Tea
Top of our list for good reason, green tea is one of the most popular herbal teas for athletes. This is a great all-rounder option that is known to support both performance and recovery.
A natural source of caffeine, green tea helps to give your energy a boost. That's not all though – studies suggest that green tea can also improve neuromuscular activity, reduce oxidative stress, and lower muscle damage.
Green tea also helps you to be more metabolically flexible. This means that your body can more easily switch between glucose and fat as an energy source, which may be especially beneficial to endurance athletes.
We love green tea for its many benefits, so you'll find it in many of our premium herbal tea blends. For athletes, we recommend looking out for green tea in NutraBoost, our energy tea.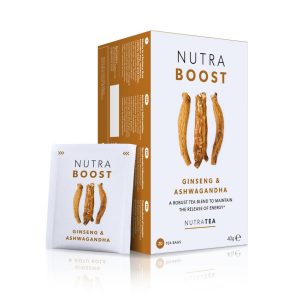 2. Ginseng
Ginseng is another popular herb for supporting athletic performance. A favourite in Traditional Chinese Medicine, this herb has long been thought to boost our energy levels and vitality.
One of the reasons that many athletes prize ginseng is the herb's ability to reduce fatigue. This can help to improve endurance. So, if you're looking to exercise for longer, or have an endurance event (like a marathon) coming up, ginseng might be your herb of choice.
Like green tea, ginseng is one of the main ingredients in our NutraBoost blend. You can also find it with ginger in our Ginseng & Ginger flagship blend.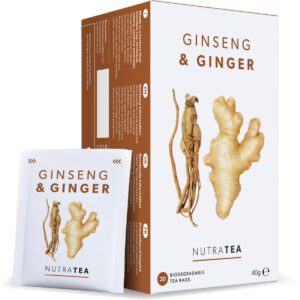 3. Rhodiola
Rhodiola is a less well-known herb, but one that has been used for many years to boost endurance and physical performance. Like ginseng, rhodiola is used to reduce fatigue and increase stamina.
An adaptogen, rhodiola can also help to protect our bodies against stress and give our mental health a boost. Since any athlete knows that performance is as much about our mental state as our physical fitness, this can make rhodiola a great herbal tea for fitness enthusiasts to choose.
Again, you'll find rhodiola as one of the ingredients in our NutraBoost herbal tea.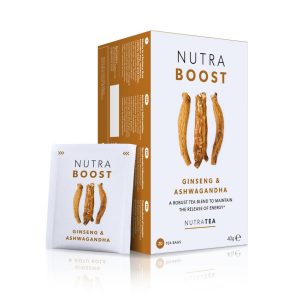 4. Turmeric
Turmeric is a well-known anti-inflammatory, so it is no surprise that this earthy yellow spice is often recommended for post-workout recovery. Its active ingredient, curcumin, helps to combat inflammation, prevent muscle damage, and reduce oxidative stress.
If you're struggling with muscle pain after training, turmeric might be the herbal tea ingredient to look out for. It could also help give your performance an extra edge – turmeric seems to improve cardiovascular function during exercise.
We use turmeric in many of our herbal tea blends. For post-workout recovery, try it in our flagship Turmeric & Cinnamon blend. Not only is this tea delicious, but cinnamon is another anti-inflammatory that also supports our cardiovascular health.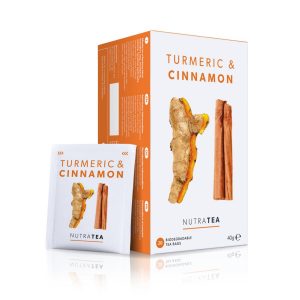 5. Ginger
Another great herbal tea to support recovery is ginger. Like turmeric, ginger has powerful anti-inflammatory properties that can help to soothe soreness and prevent muscle damage after a workout or training session.
Ginger also helps to combat oxidative stress as the result of exercise, helping our bodies recover faster.
These benefits will be especially useful to anyone starting on a new exercise regime since that is when we're most likely to experience delayed-onset muscle soreness. But any athlete will find those anti-inflammatory properties helpful in supporting recovery.
Ginger is also great for calming nausea and lifting our mood – ideal for any athlete feeling the nerves before a big event. For performance and recovery, try our Ginseng & Ginger flagship tea. Or, if your fitness efforts are in support of weight management, you might prefer to give ginger a go in NutraTrim, our fat-burning tea.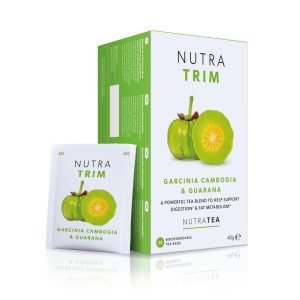 6. Ashwagandha
If your chosen form of movement requires great aerobic capacity (cyclists, runners, and ball sports enthusiasts, we're looking at you), ashwagandha might be your herbal tea of choice.
This herbal remedy has been used in Ayurveda for thousands of years. It's known for boosting our energy and physical performance. As it turns out, this includes increasing our VO2 max, as well as our endurance for aerobic exercise.
Ashwagandha is also wonderful for supporting our mental health. Another adaptogen, it helps us cope with stress and feel calm under pressure. For those who find worrying can affect their performance, ashwagandha is a great option to try.
You can find ashwagandha (and several of the other herbs on this list) in our NutraBoost tea.