The liver is a vital organ that performs many different tasks to help the body energise, defend itself from infection, regulate hormone levels and more. The liver also helps to metabolise alcohol and drugs, and regulates the body's supply of important vitamins. It plays a crucial role in maintaining the overall health and function of the body, however, liver problems can often go undetected, with people often showing little or no symptoms.
Therefore, it's important to help support and promote liver health. Below is a list of supplements that can be taken to promote healthy liver function:
Milk thistle
Dandelion root
Turmeric
Ginger
From alcohol consumption to beauty products, and even domestic cleaning products, there are various different things that can affect your liver. Whilst taking supplements is just one of the many ways to help support healthy liver function, it is a simple yet effective step in promoting both your liver, and therefore your body's, physical health and wellbeing.
Milk thistle
Milk thistle is renowned as a herbal treatment for liver support, containing antioxidants in its seeds that have been shown to promote both the function and detoxification of the liver. This antioxidant, called silymarin, can also help to repair cells in the liver that have been damaged by disease.
Dandelion root
Dandelion root also helps to support liver function, helping to improve how well our bodies can remove toxins. Dandelion root is rich in antioxidants, which research has shown to protect liver cells. It has also been shown to help aid digestion. Studies on animals have shown that dandelion root helped to protect the liver from damage by environmental influences (e.g. alcohol).
Turmeric
Turmeric root is another supplement renowned for its antioxidant and anti-inflammatory properties that help to promote healthy liver function and overall wellbeing. Turmeric root also contains a chemical compound known as polyphenol, which has been shown to lower the risk of stress-induced fatty liver disease.
Ginger
Ginger is well known to hold a range of different health benefits, including the promotion of liver health and healthy digestion. Ginger holds anti-inflammatory properties, which have been suggested to reduce the levels of certain inflammatory chemicals that can contribute to the development of fatty liver disease.
Why would you need supplements for your liver?
The liver is vital for healthy bodily function. It not only regulates many of the essential hormonal levels in your body, but also supplies you with energy and essential vitamins. Impaired liver function could therefore come with a multitude of issues, stopping your body from proper function, and therefore significantly reducing overall health.
Liver supplements help to support healthy liver function, and therefore help to maintain an essential part of your body's health.
Using tea as a supplement for your liver
Certain blends of tea can also be used as a supplement for the liver. Nutra Tea's NutraLiver is made up from such beneficial ingredients as milk thistle, liquorice and turmeric to help restore the natural nutrient whilst regulating the release of energy to reduce fatigue.
All Nutra Tea products are made up 100% raw ingredients, collected from over 20 countries to provide exciting and unique blends to our customers.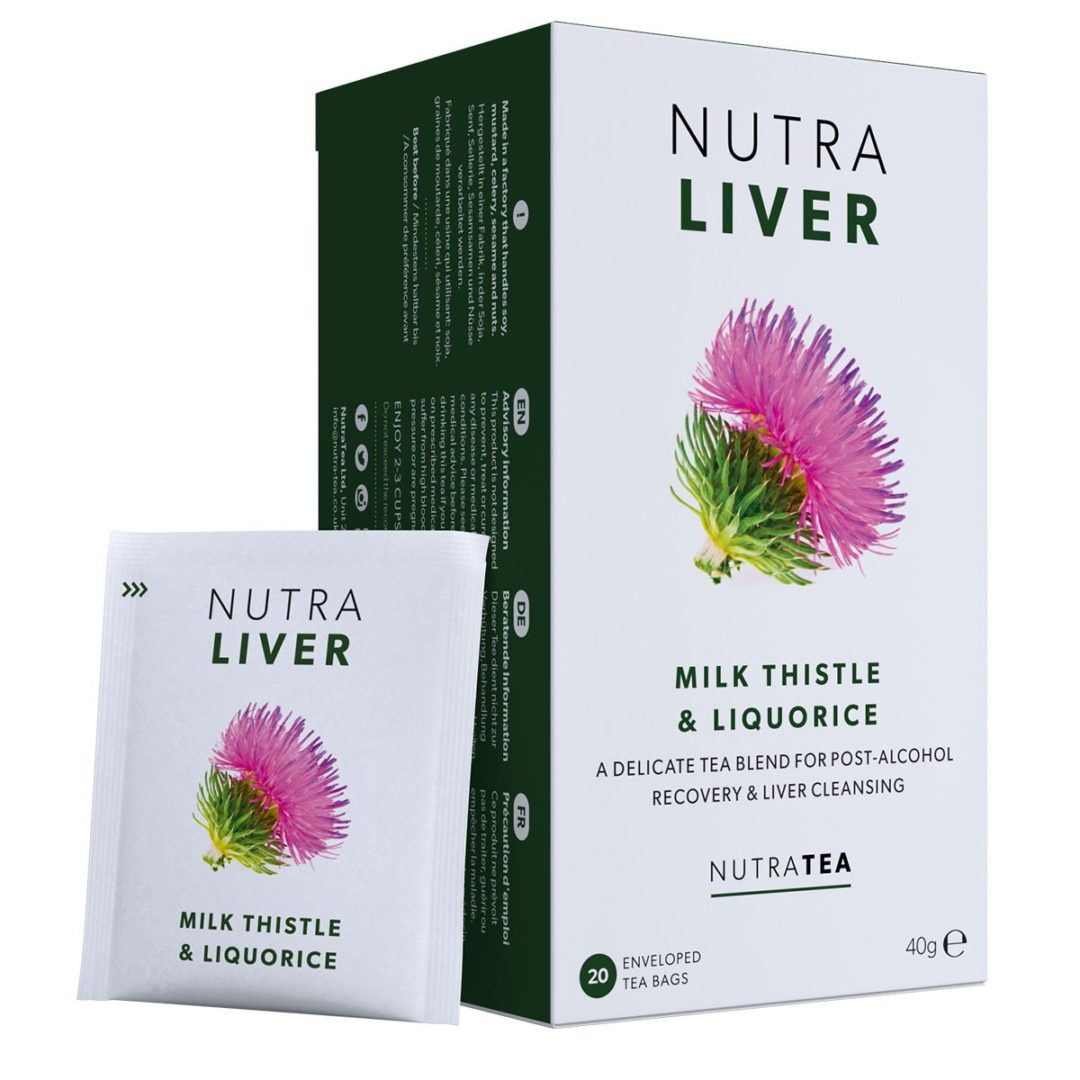 NutraLiver Tea