There are a variety of different remedies that can help to boost sexual performance and libido, from kicking bad habits to taking certain supplements.
Physical intimacy is an important part to most romantic relationships. Therefore, taking measures to enhance this experience can help to strengthen relationships, whilst also doing wonders in promoting physical health and wellbeing.
Remedies for sexuality can come in a variety of different forms, some of the main methods being as follows:
Get enough sleep
Reduce stress levels
Stop smoking and drinking
Take supplements
Whilst these are by no means the only ways people can improve upon their sexual performance and libido, they can be effective measures for boosting sexuality, and also offer numerous other health benefits.
Get Enough Sleep
Sleep plays a vital role in energy levels, and when lacking, can have a significant impact on both mental and physical health. It can also be particularly difficult for those with busy lifestyles to be able to have the time or energy for sex, which can lead to increased stress levels and a reduced sex drive.
Making sleep a priority and ensuring you get a healthy amount each day can help to rejuvenate energy levels and thereby sex drive and overall productivity.
Reduce Stress Levels
Following on from the previous point, stress levels can significantly affect a person's sexuality, the higher the stress the lower the sex drive typically is. Apparently, women are more susceptible to reductions in their sex drive from stress, whereas men can find the opposite occurs, and can often use sex as a stress relief.
When both parties are stressed, this can then lead to conflict and an imbalance of sex drive in relationships. However, men and women do not always react in this way, and stress can also lead to difficulties with sexual arousal in both men and women. By reducing stress levels, this can help to enhance sexuality, and can also restore balance to the sex drives within a relationship.
Stop Smoking and Drinking
Consuming too much alcohol can have adverse impact upon your sexual performance, having been suggested to cause impotence. The same goes for smoking cigarettes, as some studies have suggested that stimulants narrowing blood vessels can lead to impotence, reducing overall sexual performance.
By kicking any bad habits and trading them in for a healthy diet and exercise, this can not only restore sexuality, but further improve it.
Take Supplements
There are some supplements that have been suggested to improve sexuality, enhancing sexual performance and boosting libido. Korean red ginseng has been considered as a treatment for impotence for quite a while, with research now being conducted to back up such claims. One study showed that those who took Korean red ginseng felt their ED symptoms had improved in comparison to those on the placebo.
Another study on Korean red ginseng saw improved sexual functioning in menopausal women, who can often experience declines in sex drive during this time.
Medicinal herb Muira Pauama has also been known for its aphrodisiac effects, commonly referred to as "potency wood". The herb has been reported to help increase men's sexual libido, their stamina, fertility and erections. Whilst Muira Pauama has not been too well researched, of the studies that have been conducted, one showed a significant increase libido for participants who were suffering from sexual asthenia.
Why Would You Need Remedies for Sexual Performance?
Physical intimacy can offer a whole host of different benefits, with sexual arousal increasing the heart rate and thereby exercising the heart. Studies have also shown physical affection and embracing a loved one can lead to a lowering of blood pressure. One study in particular showed that couples who held hands and hugged for a set amount of time had lower heart rates and blood pressure when about to do something stressful (i.e. public speaking).
Studies have also suggested that people who have more frequent sex feel considerably healthier. One study showed that out of 3,000 Americans between the ages of 57 and 85, those who had sex would rate their health higher than participants who did not.
Interestingly, those who were either married or in a "close relationship" also rated themselves as healthier on average in comparison to those who were not.
Using Tea as a Remedy for Sexuality
With the right blend, tea can also be used to help boost sexuality. Nutra Tea's NutraLust is made up of a unique blend of Ashwagandha, Mauria Puma, Ginseng, Black Tea and Mace, helping to stimulate sexual health, alleviate stress and anxiety, whilst encouraging sexual performance.
All of our teas are made from 100% raw ingredients, collected from more than 20 different countries to provide you with unique and beneficial blends.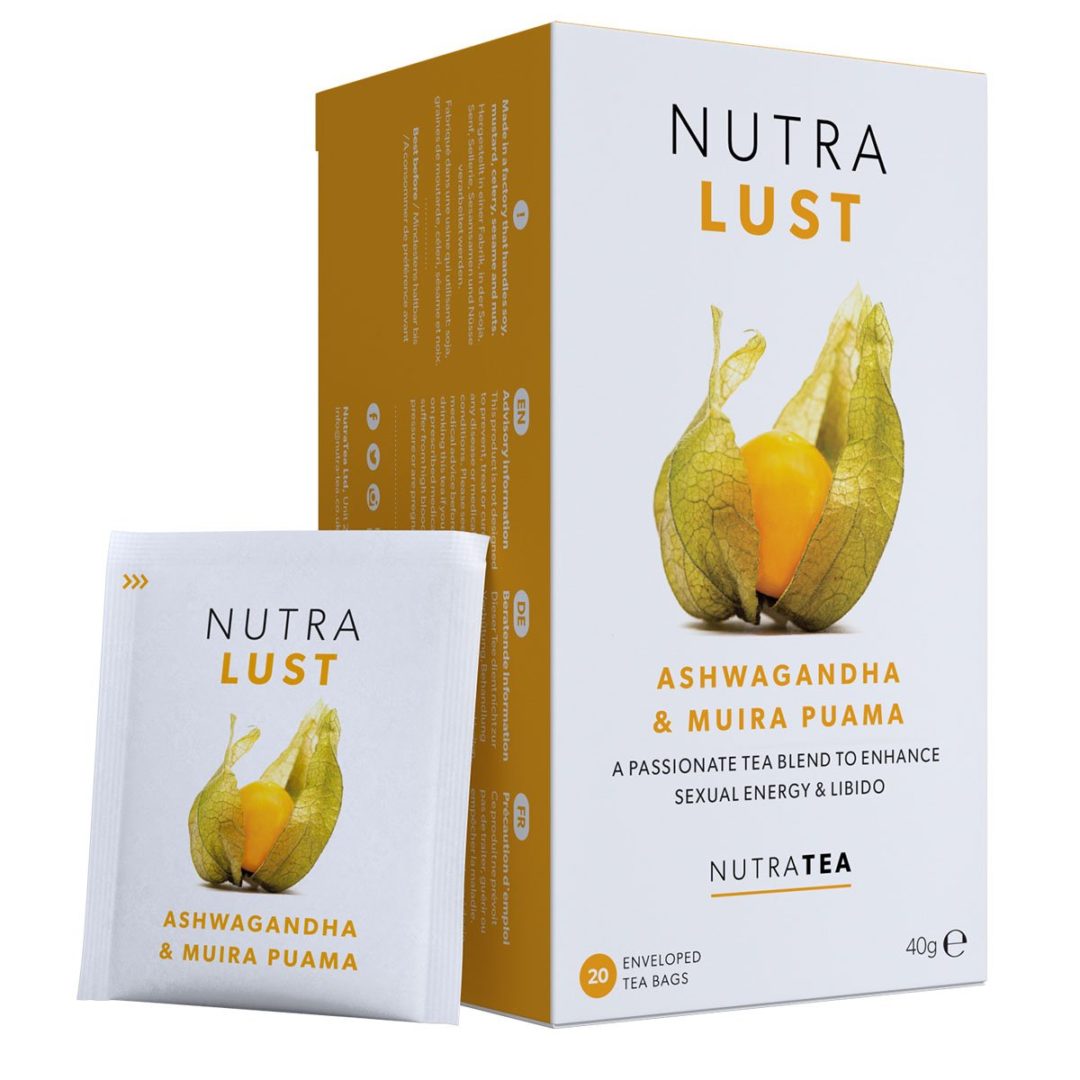 NutraLust Tea