Natural & Organic Products Europe is one of the largest trade shows for natural and organic products in the world. This year's event, held in ExCel London, brought together over 700 exhibitors and thousands of attendees from all over the world across 2 days. From local business to worldwide brands, curious first timers to regular attendees, the doors were open to everyone.
Being Europe's leading sustainable business trade only event helps attendees discover 1000s of new products from the industries trailblazers, meet 100s of international suppliers, network with likeminded people, hear the latest trends and research across its five main categories. From Natural Health for vitamins, minerals, supplements, sustainable or lifestyle products, Eco Living for household, beauty, drink & lifestyle, Natural Beauty & Spa for zero waste cosmetics, babycare, male grooming or haircare, Natural Food Show for food, drink, snacks, mindful drinking to Vegan World for food drink, cosmetics, eco living, VMS or health, there really was something for everyone.
Proudly sat in the Natural Food Show on STAND S11, we showcased our range of 24 Functional Herbal Teas. Here we demonstrated how we produce our blends of the finest herbs and botanicals, using only essential ingredients with known health benefits to create a range that is so much more than just your everyday herbal tea. But we don't stop there, because we didn't just create a Functional Tea range, we are also always considering the environment, from fully recyclable packaging to reusable teabags and only using sustainably sourced ingredients from around the world, our customers and the worlds health is at the forefront of everything we do.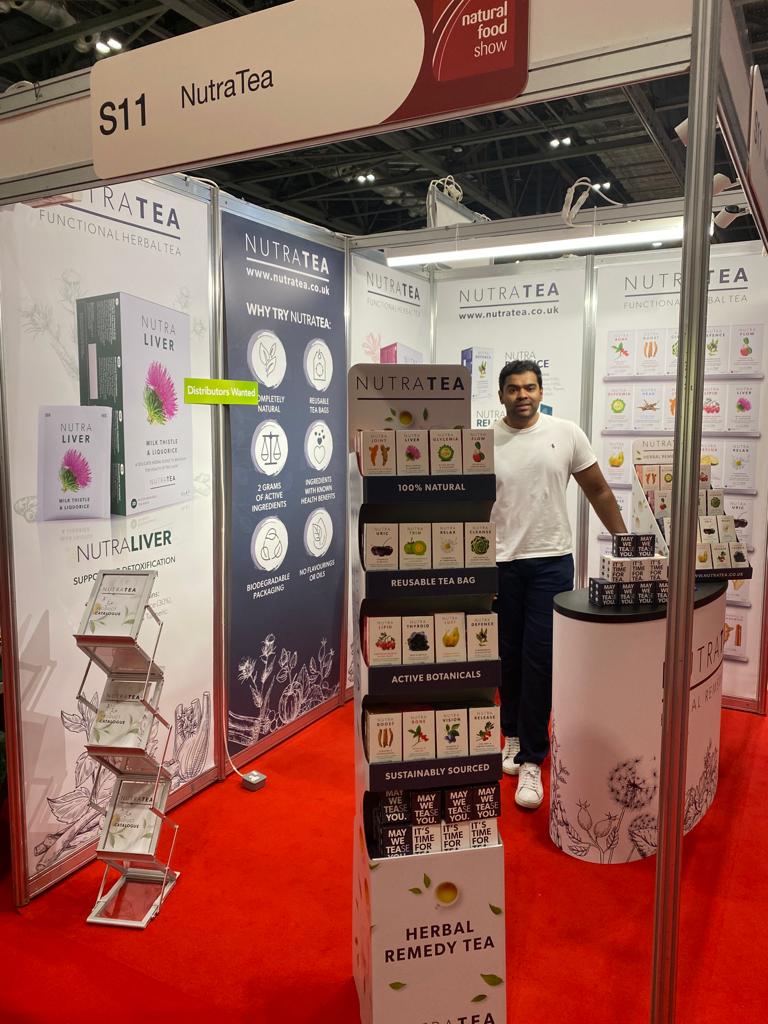 Throughout the event, we explained how NutraTea can help with a variety of issues that other teas just cannot reach, including; relieving stress and anxiety, boosting immunity, aiding with digestion, improving sleep, relieving, or reducing inflammation in bones and joints, plus supporting heart health to name but a few.
We proudly gave away an array of samples, helping many attendees leave with bags of their favourite teas, product catalogues allowing them to explore our complete range, including our upcoming new blends, along with a wealth of knowledge about our blends and the goodness they contain.
NOPEX23 EXCEL LONDON was again a huge success not only for us but the organisers and attendees alike. We had great pleasure in meeting so many people and helping them learning more about our products and the health benefits that they contain. It was a pleasure to be involved in such an amazing event and we will be back again next year with even more blends as we embrace a better future with natural and organic.