It's time to relax, get cosy in your favourite PJs, and settle in for the evening. And what better way to unwind than with a warming cup of tea? Discover which herbal teas you should drink in the evening with our helpful list.
 —
After a long, busy day, nothing feels better than snuggling up with a comforting mug of tea. But if the caffeine in black tea has you struggling to switch off at night, it might be time to try some herbal alternatives.
Herbal tea is a delicious treat at any time of day. When we want to relax and unwind before bed, this really is the ideal hot drink. Not only are many herbal brews caffeine-free, but they are also light and gentle on your digestive system – which is great for those of us who struggle to sleep if we're feeling full or bloated.
Even better, some herbs can help our bodies and minds relax and find calm after a hectic day. And some can even give us a better night's sleep, meaning we wake refreshed and ready to face the world again in the morning.
So, if you're wondering which herbal teas you should drink in the evening, you've come to the right place. From soothing chamomile to relaxing liquorice, our list covers the best herbal teas for a great night in.
1. Liquorice & Cinnamon
If you've finished your evening meal and are craving something sweet, our warming and earthy Liquorice & Cinnamon tea is a great option to satisfy that sweet tooth without loads of sugar or calories.
The comforting flavour isn't the only reason we love this herbal tea in the evening. The herbs in this blend also bring plenty of health benefits.
Liquorice is a great option for supporting your digestion. It soothes indigestion and heartburn, which can often crop up in the evenings and disturb our rest. And it also helps to support your liver and kidneys, allowing them to do their job of clearing your body of toxins while you sleep.
Meanwhile, cinnamon is packed with antioxidants, is a potent anti-inflammatory, and helps to control blood sugar levels.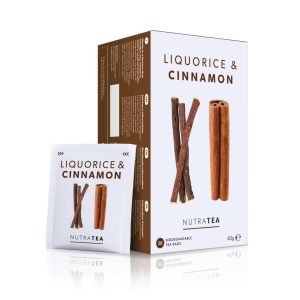 2. Turmeric & Cinnamon
Speaking of anti-inflammatories, another herbal tea blend we love to drink in the evenings is Turmeric & Cinnamon. There's just something so soothing about the earthy spices in this tea – it helps us feel grounded and settled as we unwind from a busy day.
Both turmeric and cinnamon are wonderful for soothing inflammation and easing sore muscles and aching joints. For those of us who collapse into an armchair at the end of the day and wonder if we'll ever be able to get back up again, a herbal tea that combines these two herbs is ideal.
Plus, turmeric is supposed to help us sleep – it's why 'Golden Milk' made with turmeric is such a popular drink before bedtime, especially amongst followers of Ayurveda.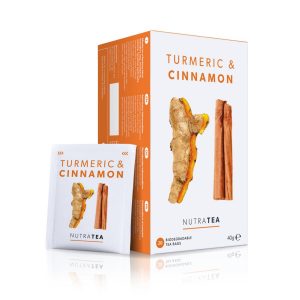 3. NutraLust
OK, so we're mainly concentrating on herbal teas that help us feel calm and sleepy in this blog post. But when we have an evening in, sleep isn't always the first priority – especially if our significant other (or current crush) is snuggled next to us on the sofa.
If you're looking for a bit of fun before bed, our NutraLust blend might be the tea you need to generate some warmth of a different kind.
Packed with natural aphrodisiacs, including ginseng, muira puama, and ashwagandha, this herbal tea is perfect for lovers enjoying an evening together.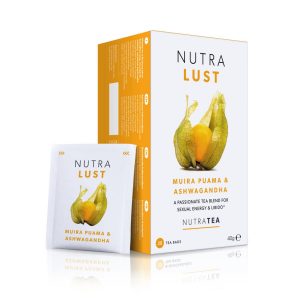 4. NutraRelax
Last but very much not least, our ultimate evening wind-down tea is NutraRelax – a calming blend of herbs that soothe your mind, relax your body, and ease you into a restful night's sleep.
Chamomile and lemon balm take centre stage in this gentle herbal tea, which is an ideal one to drink in the evenings. Both these herbs are known for promoting relaxation and improving sleep quality.
Other herbs in NutraRelax include lavender, hawthorn berry, and passionflower – all popular herbal remedies for insomnia and stress.
So, if you find it hard to change gears and feel calm in the evenings, NutraRelax is definitely the herbal tea for you.