Beat the cold with our three amazing winter tea recipes to warm you from the inside out. Comfort in a cup – what could be better?
—
Is there anything more comforting on a cold winter's day than snuggling up under a blanket with a mug of your favourite tea?
We think there are few things that can beat this simple pleasure. When the days are short and the weather is wet, we are all about embracing the cosy comforts of the season.
Of course, what's in your mug can make a difference too. We all need to look after ourselves during the colder seasons – and even the small everyday task of making a cup of tea can become a mood-lifting winter ritual if you choose your tea blend with care.
With that in mind, we're here to elevate your cup of tea with three warming winter tea recipes that are a perfect complement to the season.
1. Grounding Winter Tea
This comforting and earthy recipe uses our flagship Turmeric & Cinnamon tea as its base. It's a great option to help you feel held and grounded on a cold morning or during the dark afternoons. Plus, the anti-inflammatory ingredients in this tea are ideal if the colder, wetter weather is causing you aches and pains.
The addition of orange adds an extra element to this already delicious tea and brings to mind the flavours of mulling spices – a perfect seasonal treat.
To make it, take a Turmeric & Cinnamon tea bag and place it in your favourite mug. Add a stick of cinnamon and a slice of orange. Pour over freshly boiled water and allow it to sit for around five minutes.
Remove the teabag (set it aside for later – our teabags can be used more than once). Take a sip to check the sweetness levels and add honey to taste if you prefer a little more sweetness.
2. Lemon and Ginger Tea with a Twist
Lemon and ginger tea is a classic at this time of year for good reason. The warming ginger helps us feel soothed and uplifted, while the bright citrus notes of the lemon boost our mood and bring up our energy levels.
These two ingredients are well known for soothing cold symptoms and supporting the immune system too. We like to encourage these properties and put a twist on this classic combination by using our Ginseng & Ginger tea as a base for this recipe.
To make it, place a Ginseng & Ginger tea bag in a mug along with two or three slices of fresh ginger. Cut a lemon into quarters and squeeze the juice of 1 quarter into the mug, then put the squeezed quarter in too.
Add ½ a teaspoon to a teaspoon of honey, depending on your preferred level of sweetness. Pour over freshly boiled water and leave to steep for five minutes.
Remove the teabag, ginger slices, and lemon quarter. Adjust the sweetness as needed and enjoy.
3. Fruity Winter Warmer Tea
This immune-boosting blend contains echinacea and elderberry – two of the most popular herbal defences against colds and coughs. We've given it an extra layer of flavour by infusing apple and spices into this winter tea recipe, making it feel like a real seasonal treat.
The base tea for this recipe is our Elderberry and Echinacea blend. Start by putting a teabag in your mug and then add a cinnamon stick, two cloves, and 50 ml of apple juice (choose a good quality juice, made from real apples, or make your own).
Boil your water and then pour over the teabag and spices. Leave for around four minutes, then remove the teabag and cloves. Leave the cinnamon stick for an additional hit of cinnamon – and for aesthetic purposes!
Enjoy straight away – the tea should already be cool enough to drink, since the apple juice will cool it down a little.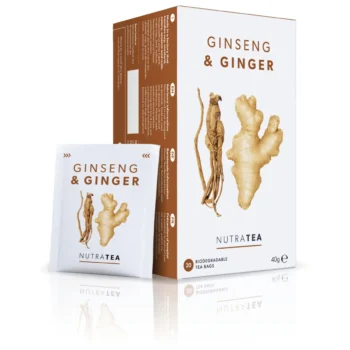 GINSENG

& GINGER
VITALITY & INFLAMMATION
£

5.99

—

or subscribe and save up to

15%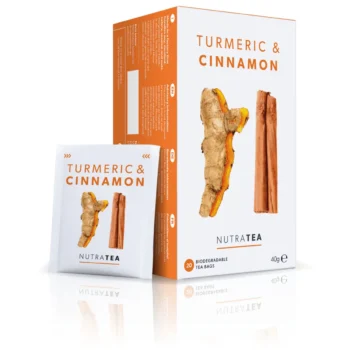 TURMERIC

& CINNAMON
INFLAMMATION & IMMUNITY
£

5.99

—

or subscribe and save up to

15%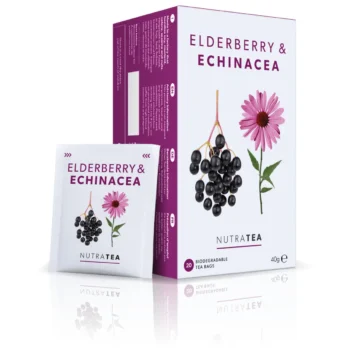 ELDERBERRY

& ECHINACEA
IMMUNITY & ANTIOXIDANT
£

5.99

—

or subscribe and save up to

15%