Looking for natural ways to ease an aching back? Our list of the most effective herbs for back pain should help point you in the right direction.
 —
Almost all of us will experience back pain at one point or another in our lives. Indeed, the World Health Organisation records that back pain affected a whopping 619 million people globally in 2020 – and also projects that number will rise to 843 million cases by 2050.
Back pain may be more common in those who are over 50, but people of any age can experience it. Our increasingly digital lives may be at least partially to blame – the slumped posture many of us adopt when sitting in front of our computers or looking down at our phones can put a lot of strain on our backs, shoulders, and necks.
Back pain can also be caused by injury or a medical condition such as sciatica or a slipped disk. But there's often no obvious cause – tense muscles, physical labour, poor posture, or a sedentary lifestyle can all contribute to back pain.
If your back pain isn't caused by an injury or a medical issue, there are some natural options you can try to ease the pain and stop it coming back in the future.
Gentle forms of exercise that strengthen your core and increase your mobility and flexibility can protect you against future back pain. Yoga, swimming, Pilates, and walking are all good options.
Being more aware of your posture, taking regular breaks from sitting at a screen, and switching to sleeping on your back can help too.
You might also consider seeing a chiropractor, osteopath, or physiotherapist.
And there are certain herbs that are effective for back pain as well. In this blog post, we'll look in more detail at some of the best herbs for back pain.
1. Devil's Claw
One of the best-known herbs for back pain is devil's claw. This intriguingly named herb is native to South Africa and is packed full of anti-inflammatory compounds called iridoid glycosides. In particular, devil's claw contains harpagoside, a natural painkiller.
2. Willow Bark
Willow bark is famous for being the inspiration for aspirin – it contains salicin, which converts in salicylic acid, the main active ingredient in aspirin.
As a result, willow bark is often used as a herbal remedy for headaches. It is also effective against other forms of pain, however, including lower back pain.
3. Turmeric
Turmeric is often recommended for muscle or joint pain because its main active ingredient, curcumin, is a powerful anti-inflammatory. Laboratory studies show that the curcumin in turmeric can reduce inflammation in the cells in our spinal discs, which may help to ease back pain.
4. Piperine
Piperine is the active ingredient in black pepper and another compound with strong anti-inflammatory properties. It has already shown potential for the treatment of sciatica, and its ability to soothe inflammation may help with other forms of back pain too.
Another benefit of piperine is that it increases the absorption of curcumin, so you'll often see recommendations to take these two herbs together.
5. Green Tea
Green tea has many benefits due to its high levels of antioxidants and anti-inflammatory compounds, such as EGCG. One of the ways it helps with back pain is by protecting the cartilage in our bodies from damage and deterioration. This can prevent back pain as well as reducing joint pain.
6. Ginger
Another herb that is great for reducing inflammation is ginger. This fiery root is also a natural painkiller and can ease chronic lower back pain, muscle pain, and joint pain, among others. Ginger is also used to treat a stiff neck.
Herbal Teas for Back Pain
We hope these suggestions for which herbs to look out for to ease back pain have given you some inspiration.
If, like us, you prefer to take your herbal remedies in tea form, there are two blends we recommend trying.
The first is NutraBone. This tea is packed with herbs that support bone and joint health and includes ingredients like green tea, ginger, turmeric, devil's claw, and willow bark that are great for back pain.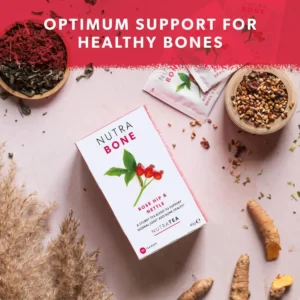 The other tea to try for back pain is NutraJoint. This blend combines piperine, curcumin, and green tea for their anti-inflammatory properties. Designed with arthritis sufferers in mind, this blend is also good for those struggling with a sore back or neck.