Autumn is here and that means we all need to take a little extra care of our health. Discover our pick of immune-boosting herbal teas to support you this season.
—
The days are growing shorter and the leaves are starting to turn, which can only mean one thing – autumn is here.
This time of year brings with it a sense of cosiness and comfort. Temperatures are dropping, but we aren't yet in the cold misery of late winter. Autumn days offer plenty of opportunities to get snuggly in our favourite jumpers, explore the beauty of the changing countryside, and enjoy the darker evenings cuddled on the couch.
Sadly, autumn isn't just about cosy knits and pumpkin-spiced drinks. The short days and colder temperatures also herald the start of cold and flu season, with plenty of us coming down with coughs, sniffles, and sore throats.
There are a number of reasons that upper respiratory tract infections like colds and the flu are more common at this time of year. Firstly, we're indoors more, which means we're more likely to pass infections around.
Secondly, we get less sunlight in the autumn and winter, which leaves many of us low on vitamin D. Since vitamin D plays a vital role in the immune system, this can mean we're more susceptible to illnesses.
Finally, the cold weather means the air is drier, despite what you might think when the autumn storms come. There's growing evidence that cold, dry air helps the flu virus to flourish. Plus, the colder air lowers the temperature in your nose, which seems to reduce your immune system's ability to fight off viruses and bacteria.
The upshot of all of this is that we are all more prone to illness during the autumn and winter months. And that means we need to take a little extra care of our immune systems so that we are better able to avoid infections and recover more quickly.
To help you get started, we've compiled a list of some of our favourite immune-boosting herbal teas to enjoy this autumn.
1. Pine Needle & Rose Hip
You've probably heard by now that you need to get enough vitamin C if you want your immune system to function efficiently. That's where this seasonally-inspired blend comes in handy – both pine needles and rose hips are packed with vitamin C and other antioxidants to support your health this autumn.
2. NutraDefence
A powerhouse of immune-supporting herbs, our NutraDefence tea is designed to support your immune system through the colder months. Herbs like liquorice, elderberry, mullein, and ginger are traditionally used to boost immunity and have antimicrobial properties too. Plus, this soothing blend may help to soothe symptoms if you do fall ill.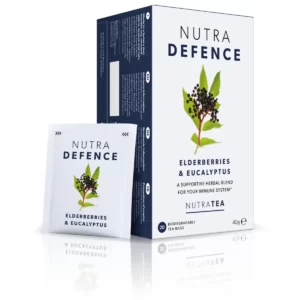 3. Elderberry & Echinacea
Another of our favourite immune-boosting herbal teas is Elderberry & Echinacea. Elderberry is another great source of vitamin C and other antioxidants to fight inflammation and keep your immune system working effectively. At the same time, echinacea is one of the most popular herbal remedies for colds and the flu – and is said to shorten your recovery time too.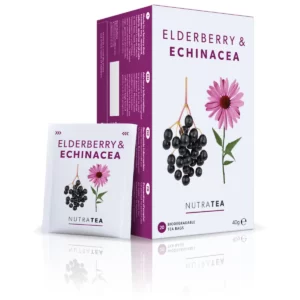 4. NutraThroat
Marshmallow root, eucalyptus, liquorice, and ginger are just some of the herbs in this soothing herbal tea blend, which is a great one to have on hand when you experience sore throats and coughs. As well as easing the symptoms, these herbs support your immune system to fight off pathogens.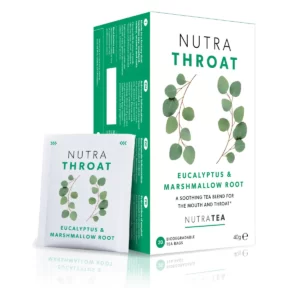 5. Mullein Leaf & Thyme
Mullein leaf tea is traditionally used to treat respiratory illnesses and lung infections, so is an ideal herb to have on hand during the autumn months. Similarly, thyme is known for soothing persistent coughs and easing sore throats. Both also support the immune system.