Making the perfect cup of herbal tea is an act of mindful care and attention. Learn how to do it the right way with our latest blog post.
 —
It's no secret that we're pretty passionate about our herbal tea here at NutraTea. We love the many health benefits herbs bring us, and we also appreciate the comforting calm that a delicious cup of herbal tea offers during our busy days.
With so many reasons to enjoy herbal tea on a regular basis, we think it is worth learning how to make the perfect cup.
Sure, you can simply pour boiling water over a teabag and move on with your day. But with just a little more care and attention, the everyday act of making a cup of herbal tea is transformed into a mindful ritual that reminds us to slow down and appreciate the little things in life.
So, here are our tips for how to brew the perfect cup of herbal tea.
1. Choose Your Mug
We're pretty sure that everyone has a favourite mug. It might be one that has a handle wide enough to feel comfortable in your hand. It might be just the perfect size that you can drink the whole mug before your tea gets too cold.
It might be the mug your son or daughter painted for you. It might be one you brought back from holiday, or that was a gift from a loved one. It might technically belong to your co-worker.
Perhaps it has a beautiful glaze, or a funny quote, or your initials. Perhaps it matches your plates, or perhaps it is mismatched and chipped.
It doesn't matter why you love this particular mug – it just matters that you do. And the perfect cup of herbal tea needs to be brewed in that mug, no other.
2. Select Your Tea Blend
There are loads of different types of herbal tea out there, so we can't tell you which will be the perfect one for you. However, we do have some rules to guide your choice.
First, the herbal tea you choose should be made from high-quality ingredients. Avoid herbal teas that feature flavourings, filler ingredients, oils or bulking agents.
Opt instead for a herbal tea that is made purely from sustainably-sourced herbs and botanicals. And look out for a functional herbal tea blend that features ingredients that are intentionally chosen for their complementary health benefits.
You can choose a herbal tea based on your particular health needs, or go for a blend that brings more general health benefits, such as better sleep, a stronger immune system, or more energy.
If you aren't sure which tea to choose, you could always opt for one of our gift boxes – a lovely way to try some different blends and to treat yourself or a loved one.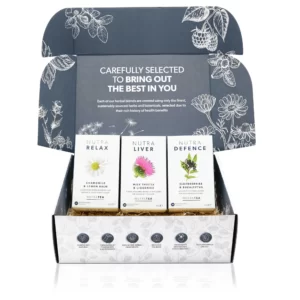 3. Boil Your Water
An electric kettle is the quickest and easiest way to boil water for your tea. But if you happen to have a little more time and the right equipment, there can be something beautiful about using the more traditional method of boiling your water in an old-fashioned kettle that sits on the stove.
Either way, make sure you use fresh, cold water, not the dregs that are sat in the kettle from the last time you used it, which will make your herbal tea taste stale and flat.
Once your water has boiled, wait a couple of minutes for the temperature to come down a little before you pour it over your tea. Green tea especially is best when your water is closer to 80˚ Celsius.
4. Leave Your Tea to Steep
A great cup of herbal tea requires patience. We want all the flavour and the active ingredients from the herbs to infuse into the water, which takes a little time.
We recommend leaving your teabag to steep for 4-5 minutes before removing it from the cup. Give it a good squeeze to get all the goodness out and then set it aside for later – our teabags are designed to be used twice or more.
Add honey to taste and your tea is ready.
5. Settle Back and Enjoy
Find a comfortable place to curl up with your cup of perfectly brewed herbal tea. Once it has cooled enough to drink, you can enjoy it at your leisure.